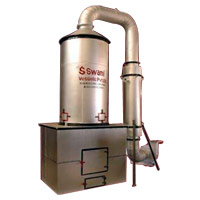 Our range of boilers are modernized and are technically advanced steam and pressure boilers manufactured with expertise for best performance. Carbon steel and stainless steel is used for manufacturing and is designed under careful consideration of the characteristics of the fuels to be used. These boilers range in different capacities from 100 kg/hr to 1,200 kg/hr and are of the following types.:
• Non-ibr coil type
• Fully automatic oil fired steam boilers 
• Multi fuel fired semi automatic steam boilers.